Opportunities for young people
A  brighter future - for you and for wildlife
Do you want to gain new skills and experience for work, while doing something positive for the environment? Our range of programmes and courses could be just what you're looking for.
Our Bright Future offers placements, courses and projects for young people aged 11-24. You will gain practical experience, learn loads of new skills and you don't need to be a wildlife expert - anybody can get involved!
Ways you can get involved
Work experience & volunteering

Our work experience placements and volunteering opportunities help you develop practical and transferrable skills whilst learning more about local wildlife.

Come with us to one of our fantastic reserves, work alongside our regular volunteers and be inspired to take action for your local wildlife. 
Join our Youth Forum

Become an Our Bright Future Youth Forum member and speak out about environmental issues (14-24). Worried about water quality? Passionate about plastic? Connect with others and make a noise about the issues that matter to you. This is an exciting opportunity to develop your skills and confidence, gain accreditation and mentoring.

Description of what you will do
Courses

We offer an AQA Accredited Wild Skills course at two locations; Grove Park in Weston Super Mare and Grow Wilder in Bristol.

Throughout this hands-on program you will have opportunities to gain practical experience and skills alongside environmental learning in ecological land management and wildlife gardening tasks. Through this learning, we aim to help build your confidence as well as caring for your wellbeing by being out in nature.
I enjoyed the project - it feels really good to help make a home for animals who might not have one. My favourite bit was doing the sawing and working with a hammer.
What is the Our Bright Future project?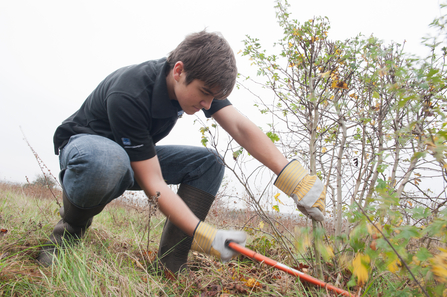 Our Bright Future is an ambitious and innovative partnership led by The Wildlife Trusts, which brings together the youth and environmental sectors. This £33 million programme funded by the National Lottery through The National Lottery Community Fund is formed of 31 projects across the UK. Each project is helping young people aged 11-24 gain vital skills and experience and improve their wellbeing. At the same time, they act as catalysts for delivering change for their local environment and community; whilst contributing to a greener economy.