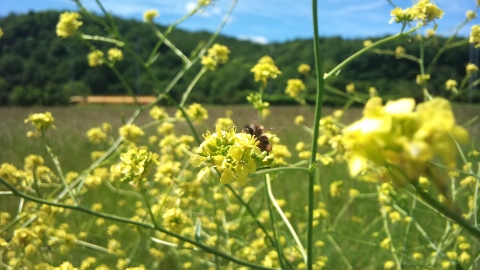 Bennett's Patch and White's Paddock
Wildflower meadows, native woodland and wildlife ponds house bats, badgers, hedgehogs, and abundant plant, bird and butterfly species.
Know before you go
Walking trails
Dogs must be kept under control due to the recent planting of seeds and trees across the site. Public footpaths access the whole reserve. Some pathways are on hillsides and can be muddy when wet. Access for all trails through the site allow access for wheelchairs and pushchairs. There are a variety of walking options available within grassland and woodland.
Access
An Access for All trail runs through the site.
Access on foot is through a gate at the bottom of Bramble Lane, opposite the beginning of Bramble Drive and Sneed Park Nature Reserve (via Bramble Drive or Glen Avon Park) in the east.
Pedestrian access to the site is available from the Portway (however this entrance is not suitable for people with children, pushchairs or wheel chairs) due to a lack of pedestrian crossing over the Portway. Visitors using this entrance are advised to take great care crossing this road.
If you are coming by car on a non-event day, please park on Bramble Drive, Glen Avon Park.
When to visit
Opening times
Pedestrian access at all times. Access to car park, cafe and facilities during publicised event days only.
Best time to visit
March to October
About the reserve
Bennett's Patch and White's Paddock Reserve in the Avon Gorge was created as part of celebrations marking Bristol's year as European Green Capital in 2015. The Avon Gorge is an essential wildlife corridor for foraging species including several species of bat, and is home to badgers, hedgehogs, slow worms and some truly unique plant species. We transformed the 12-acre neglected former sports facility into a wildlife haven, planting wildflower meadows, over 4000 trees to create a native woodland and three wildlife ponds.   In the last year alone, we have spotted: 42 different species of birds  22 species of butterflies  118 species of flowering plants & 29 trees and shrubs.