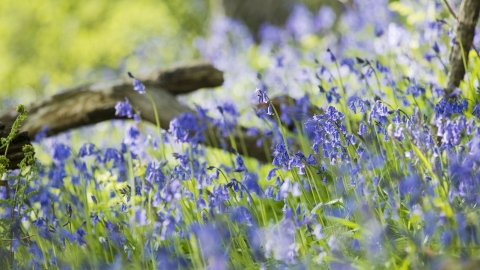 A beautiful wildlife-rich ancient woodland with streams and a wonderful bluebell display in spring.
When to visit
Opening times
Open at all times
Best time to visit
April to July, September to November
About the reserve
Once part of the Tyntesfield Estate, this wildlife-rich nature reserve is blessed with ancient woodland, streams and not forgetting, magnificent bluebell displays in spring! 
Parts of Prior's Wood date back to the 1600s, and are very close to the type of woodland that developed after the last Ice Age about 10,000 years ago.  
Wildlife
The woodland cloaks part of the Carboniferous limestone ridge that runs from Clevedon to Failand in the Gordano Valley. Small-leaved lime trees, oak and hazel are abundant, and in places mature sweet chestnut reach high into the canopy. In spring, the woodland floor is a spectacular carpet of bluebells, particularly in the southern and western parts of the wood. Prior's Wood is rich in bird life, including buzzard, garden warbler and chiffchaff. Spotted flycatcher is also recorded in most years.  
Bluebells (from late April)
One of the UK's most breathtaking natural spectacles is the carpets of bluebells that bloom in our ancient woodlands in spring. Bluebells are a unique part of British flora and remain one of the best free shows on offer. Up to half of the world's bluebells grow in Britain, making it one of Britain's most important natural species. Bluebells are so slow at reproducing they are a sign that the woodland surrounding them has been undisturbed for hundreds of years. The trees, such as oak and hazel, have been untouched for many years and are therefore allowed to mature to their natural splendour, which is one of the reasons the bluebell displays at Prior's Wood are one of the best in the region.  
Visiting the bluebell displays?  
Please be considerate of the residential areas surrounding the woodland when parking -weekends during spring can be very busy. Enjoy the bluebells, but please do not pick them - they are are a protected specie.   This site was purchased from the Children's Hospice South West with support from Viridor and YANSEC, local parish councils and donations from members and local people.
Environmental designation
Local Wildlife Site (LWS)
Site of Nature Conservation Importance (SNCI)