My Wild Child sessions run in some parks and green spaces in Bristol during term time. You can normally find us at the Bommie-Knowle, St George Park and at Grow Wilder, however due to the current situation we'll be delivering self-guided video sessions at the sites so children and families can still continue to enjoy nature in the city in a safe way. 
Sessions combine child-led free play with practical activities, including mini-beast quests, wild stories and much more. Watch our latest self-guided video sessions below!
You can also join our
for updates on video activities, My Wild Child competitions and to find out where you can pick up a self-guided  nature-connection kit to explore nature with.
 Since we can't run our sessions in person yet, we've put together these nature explorer kits so you can have fun learning about wildlife on your doorstep. Each kit contains a range of different activities, and each new activity will link to a new video which we will post once a fortnight, so stay tuned!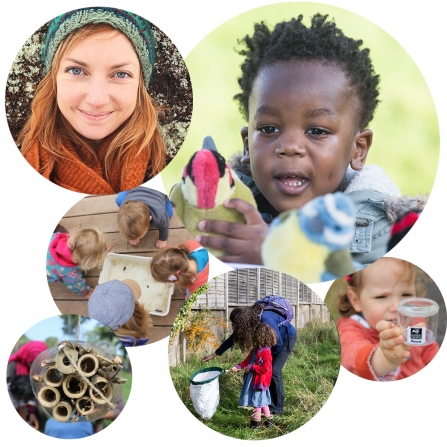 My Wild Child activities are aimed at toddlers aged 2-4 years but younger siblings are welcome. Please make sure that you are dressed for the weather and supervise your children at all times.
No booking required – just turn up. Sessions run normally, weekly during term-time at:
The Bommie - Knowle

The Bommie - Knowle, Northern Slopes
Every Wednesday morning from 10am–11:30am
Meet at the Bommie entrance (next to 105 Wedmore Vale, BS3 5JB)
click for map
St George Park

St George Park, Church Rd, BS5
Every Thursday morning from 10am–11:30am
Meet to the right of the lake, if you're coming down the slope from Park Crescent.
click for map
Feed Bristol

Feed Bristol, BS16
Every Friday morning from 10am–11:30am £5 per child
Meet at the undercover classroom (the canvas area).
Please park at the Begbrook Social Club.
click for map
Thanks to players of People's Postcode Lottery for supporting this project. People's Postcode Lottery is regulated by the Gambling Commission, for more information please click here.