Upcoming Wildlife Watch Events
Taking action for wildlife from a young age
Wildlife Watch is the junior branch of The Wildlife Trusts and the UK's leading environmental action club for children.
Wildlife Watch groups are usually run by schools or volunteers, with support from their local Wildlife Trust. Activities are varied and practical, designed to nurture curiosity and learning about the natural world; examples include badger watching, bat detecting, wildlife campaigning and pond dipping.
The Wildlife Watch website has a range of resources and activities for you to enjoy with your family, class or group.
If you want to find out about Watch groups near you, or you're interested in starting your own, we'd love to hear from you.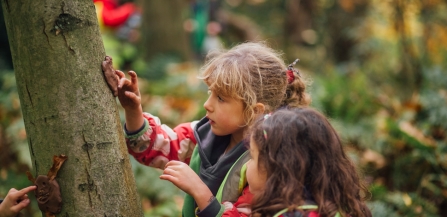 Wildlife Watch Clubs at Grow Wilder
On the first Saturday of every month, our learning team run a Wildlife Watch Club at our Grow Wilder (formerly Feed Bristol) site, for 5-10 year olds. We'll be learning all about nature, with an exciting new theme every month and lots of fun activities to enjoy. From the habits of our feathered friends, learning about insects, to the wonders of pond life, this nature club is perfect for the budding nature-lover.
You can book your place by clicking on the event you would like to attend above and then following the link to Eventbrite.
Come dressed ready to get your hands dirty as we'll go on a wild adventure around this amazing wildlife hub in the city!
Meet us outside the Grow Wilder Roundhouse, please park at the Begbrook Social Club. Parents and carers are encouraged to accompany their children for the club and must stay on site during Wildlife Watch Club sessions.
Covid 19 Guidance
Due to the changing nature of COVID-19 guidelines and restrictions, our sessions will be running in a slightly different way to normal - so that families can continue to enjoy nature in the city in a safe way. We have modified the way we run our activities to meet social distancing guidelines and avoid sharing kit and snacks between families. Booking for Wildlife Watch is essential to maintain social distancing.
 Please book a ticket for each child who will be attending. Tickets are £5 per child to cover site hire. We're currently unable to provide and share refreshments so please bring your own drinks and snacks for a fire side treat.
Here's a guide to what we'll be getting up to for the rest of this year:
Saturday 3rd July – What's in the Water?
Saturday 7th August – Moths & Butterflies
Saturday 4th September –Animal Architects
Saturday 2nd October – Fantastic Creatures and Where to Find Them
Saturday 6th November – Trees Glorious Trees
Saturday 4th December – A Festive Celebration
Thanks to players of People's Postcode Lottery for supporting our Wildlife Watch Club. To find out more about how players of People's Postcode Lottery support The Wildlife Trusts, click here.