How we raise funds for our work
Avon Wildlife Trust is your local wildlife charity, working with others to protect wildlife and wild places and bring people closer to nature.
We rely overwhelmingly upon the support of our members and donors. We are grateful to every one of you for supporting Avon Wildlife Trust and being part of creating a wildlife-rich West of England.
Thank you.
To help us do even more, we also apply for and receive funding from statutory grants, lotteries, charitable trusts and corporate partners.
Grants are usually awarded for specific projects. Some of our main sources of support include: the players of the National Lottery; players of People's Postcode Lottery; The Landfill Communities Fund (Biffa Award and Enovert Community Trust). Some Local Authorities and Government Agencies and Departments also support specific projects. 
Our financial information
The charts below show our latest income and expenditure for 2017-2018.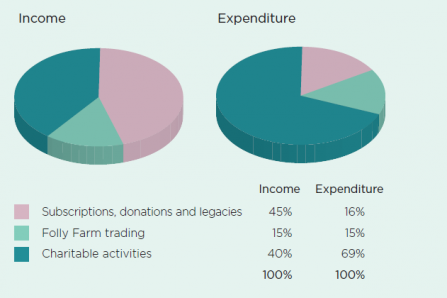 Thank you
Every single one of our supporters are at the heart of what we do. You make our work possible – from protecting threatened wildlife like bats, dormice and bees to protecting some of our precious wild  places, including rare habitats in our region. You also help us inspire the next generation of children to love nature. Every donation we receive makes a difference. Thank you.
Avon Wildlife Trust Annual Report & Accounts
Find out more about how to get involved