This course allowed me to focus my life, to think about what I am doing by learning lots of positive things.
Self-care with nature
Evidence shows that a thriving, wildlife-rich environment benefits both physical and mental health. People with nature on their doorstep are more active, mentally resilient and have better all-round health. Our Wellbeing with Nature courses focus on self-care and nature connection, using a blend of holistic and physical nature-based activities to support wellbeing. At the heart of the programme lies the 5 Pathways to Nature Connectedness  – a set of results-based actions developed by the University of Derby which improve wellbeing when practiced regularly. 
Current Wellbeing courses
We are currently running courses at our Bristol urban wildlife site, Grow Wilder, and at Bath City Farm. For more details about any of our courses, please email wellbeingteam@avonwildlifetrust.org.uk
Natural Pathways at Bath City Farm

Our friendly, wildlife conservation group meets every Thursday at Bath City Farm with an emphasis on improving people's wellbeing, as well as offering the chance to learn new skills. The 37-acre site in Bath is focused on providing education, conserving the environment and supporting people who have enduring mental health issues, are living with disabilities or are otherwise facing adversity. To book a place, email the farm directly or call 01225 481269.

 
Grow Wilder

Grow Wilder is Avon Wildlife Trust's inspiring six-acre wildlife gardening hub in Bristol, where people and wildlife thrive in a productive setting. Situation in Stapleton, the site is embedded within its community, allowing people of all backgrounds to experience nature on their doorsteps. 

(c) George Cook
Success
Of those that took part in Wellbeing with Nature in the last four years, 89% of participants reported increased improvements in their health and wellbeing, and 72% have gone onto additional activities, further education or employment.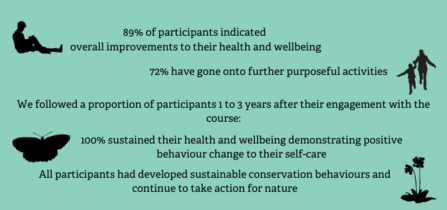 You can get isolated easily when you're depressed. To come out and see different people helped.
What next for Avon Wildlife Trust's wellbeing work?
"As a social Prescribing Facilitator in East Bristol, I have found the Wellbeing with Nature course an invaluable signposting pathway for supporting people to access nature and the outdoors. I consistently receive positive feedback from people who have attended the course around how they feel their wellbeing has improved. I attended a taster day there and really enjoyed the supportive atmosphere and activities." The Care Forum
We are pleased to announce that Wellbeing with Nature is being rolled out across the region, allowing us to offer self-care courses and nature connection activities to even more people, often in partnership with the NHS. Thanks to Bristol Community Health and Green Social Prescribing Funds, we will be delivering a series of sessions with Brooklea Health Centre, the Wellspring Settlement, and Hartcliffe on Dundry Slopes. We will be working with health professionals and GP practices to ensure that wellbeing in nature becomes integral to non-medical mental health solutions, whilst promoting pro-conservation behaviours supporting local wildlife. 
The team reflect on the power of nature to help wellbeing