This course allowed me to focus my life, to think about what I am doing by learning lots of positive things.
Self-care with nature
Our Wellbeing with Nature project has come to an end, having inspired many to learn new skills, build confidence and lead healthier lives through experiencing nature and being outdoors. Together, we celebrate the success this project has seen. Thank you to Big Lottery Reaching Communities Fund whose funding has helped us build a project that is meaningful and impactful in so many ways and to the Natural Academy for training and guiding our team and co-developing an inspiring and innovative project. 
The course used the 5 Pathways to Nature Connectedness  – a set of evidence-based actions developed by the University of Derby which improve wellbeing when practiced regularly.
Success
Of those that took part in Wellbeing with Nature, 89% of participants reported increased improvements in their health and wellbeing, and 72% have gone onto additional activities, further education or employment. We are grateful to The National Lottery Community Fund for supporting this work.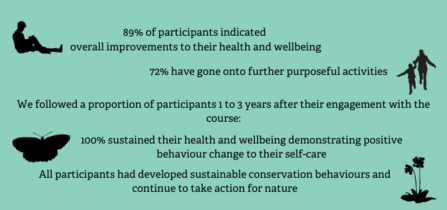 You can get isolated easily when you're depressed. To come out and see different people helped.
What next for Avon Wildlife Trust's wellbeing work?
"As a social Prescribing Facilitator in East Bristol, I have found the Wellbeing with Nature course an invaluable signposting pathway for supporting people to access nature and the outdoors. I consistently receive positive feedback from people who have attended the course around how they feel their wellbeing has improved. I attended a taster day there and really enjoyed the supportive atmosphere and activities." The Care Forum
In December 2020 our local NHS provider was one of seven areas in the UK to be awarded funding from the Government to pilot a system-wide approach to green prescribing. As a collaborative partnership project facilitated by the West of England Nature Partnership, we look forward to working with the NHS to share our experiences and learning. If we can all work collectively, people and wildlife can recover and thrive together.
The team reflect on the success of the course