Connecting young people with nature
Our Bright Future is an ambitious and innovative partnership led by The Wildlife Trusts that brings together the youth and environmental sectors. This £33 million programme, funded by the National Lottery Community Fund, is formed of 31 projects across the UK.  
Over the last five years Our Bright Future has worked within Avon to ensure young people are connected to nature and equipped to protect it into the future. Here we tell the story of how we have increased young people's connection to nature, helped young people develop skills and experience for a greener economy, improved green spaces for people and wildlife and given young people the space and voice to act as catalysts for change. This included setting up young volunteering, a work experience offer and an Avon Wildlife Youth Forum.
This work is important to help young people improve their skills and gain experience but also for their mental health and wellbeing. We found that overall young people felt more connected to nature and able to achieve what they wanted to after being involved in this project.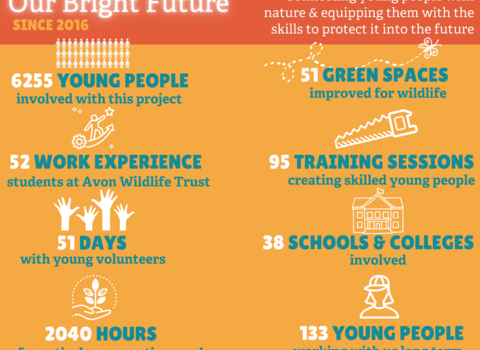 The last five years
Here we have collected some of the stories, photos and testimonials from the last five years. We think it deserves celebrating and for that reason we are sharing these stories with you.
We are passionately committed to sustaining and building on our work with young people ensuring they become catalysts for change, connect with nature and improve the environment in which we all live. As well as integrating the youth voice into all areas of the Trust's activity we will continue to develop groups and support them to have their voices heard.
Funding has enabled us to get to this point but this is insufficient to maintain longer term delivery. We need your help if we are to continue this valuable work.
Can you help us continue our invaluable work with young people?
We want to help more young people in Avon!
Explore our areas of work with young people over the last five years