Avon Wildlife Trust Working to Bring Lapwings Back to the Gordano Valley
Lapwings are being encouraged back to the Gordano valley to live and breed, in a project by Avon Wildlife Trust to restore their special wetland habitat. The project, funded by a grant from Biffa Award as part of the Landfill Communities Fund, will allow AWT conservation staff and volunteers to work across 80 hectares of land between Portishead and Clevedon, to create the right conditions to attract and protect lapwing breeding pairs.



Once a common sight across farmland and countryside, lapwing numbers have steeply declined over the recent decades, and are now on the UK's red list as a species of conservation concern, signalling that their future is at risk. Across Avon, lapwing numbers have fallen by 88% in the last 25 years, with as few as three breeding pairs being present in some recent years.
"Where once we'd see and hear the unique call of lapwings above us in this landscape, these wading birds are now rarely seen. We're now working hard on our Weston Moor and Clapton Moor nature reserves to create the habitat that will not only bring them back, but will also benefit other plants and wildlife which flourish in wetland areas," said Eric Heath, Avon Wildlife Trust Head of Land Management.
Breeding pairs of lapwing tend to cluster in areas of open ground with short, sparse vegetation where they can build their nests. AWT will modify the grazing cattle currently undertake on parts of the land, working with a local farmer to ensure the grasses are the right height. In addition, 'scrapes' will be created – shallow dips in the grassland – which provide the perfect site for lapwings to build their nests as they prefer to be just below ground level. Other work will include hedgelaying and removing some trees to help lapwings see across the landscape and reduce perching sites for potential predators like crows.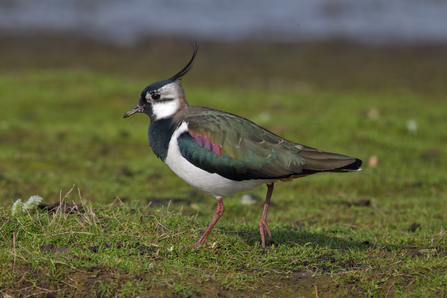 "The Gordano Valley, with its peat moors and interlocking system of watercourses, is hugely important for migrating wetland birds." said Eric Heath. "Connected to the Somerset Levels and Moors, this landscape is one of the largest areas of coastal wetland in England. Improving this habitat for lapwings will help many other wetland birds and other wildlife in years to come."
Gillian French, Biffa Award Head of Grants, said:
"We're thrilled to support this project that is working to bring back such an iconic bird. The work that Avon Wildlife Trust is carrying out is essential to providing these birds with a future."
Volunteer teams from local communities are already regularly helping with conservation work on Clapton Moor and Weston Moor. The lapwing project is a chance for other community groups and individuals to get involved in practical work to manage this special habitat for wildlife. If you'd like to become a conservation volunteer you can read more information about the role and sign up through Avon Wildlife Trust's website avonwildlifetrust.org.uk/volunteer.
ENDS
For more information contact Naomi Fuller, Avon Wildlife Trust Communications and Marketing Manager 0117 917 7270
Photos (c) Peter Evans
Notes to Editors:
For more information contact:
Naomi Fuller – Communications & Media Manager, Avon Wildlife Trust
T: 0117 917 7278 mobile 07458 091433
E: naomi.fuller@avonwildlifetrust.org.uk
1. Lapwing
Also known as peewits after their distinctive call, lapwings have black and white plumage and a crested head and a wavering flight style. They feed on insects and invertebrates. Surveys in England and Wales showed a 49% decline in Lapwing between 1987 and 1998. This decline was most marked in lowland farmland and is generally accepted to be a direct result of changes in farming practices. In 2002, the British Trust for Ornithology Breeding Waders of Wet Meadows Survey, found that while Lapwing was still the most widespread wader on lowland wet grassland, the species had become scarce in South West England (35% decline between 1982 and 2002). In the review of the status of birds occurring in the UK, Birds of Conservation Concern 3, Lapwing was moved from the Amber list to the Red list, following a breeding population decline equal to or exceeding 50% in the previous 25 years. In Avon, the decline was 88%.
2. Avon Wildlife Trust
Avon Wildlife Trust is the largest local charity working to protect wildlife and inspire people in the West of England area – with the support of 17,500 members, 1,500 volunteers and corporate support.  We care for 36 nature reserves - from ancient bluebell woods to Iron Age forts, nationally important wetlands, and wildflower meadows.  We run award-winning educational and community programmes.  And we work with landowners in the wider countryside, to reduce the decline in wildlife by creating a Living Landscape.
www.avonwildlifetrust.org.uk
3. Biffa Award
Since 1997, Biffa Award has awarded grants totalling more than £156 million to thousands of worthwhile community and environmental projects across the UK. The programme administers money donated by Biffa Group Ltd through the Landfill Communities Fund.
www.biffa-award.org
4. Landfill Communities Fund
The Landfill Communities Fund (LCF) is an innovative tax credit scheme enabling operators (LOs) to contribute money to organisations enrolled with ENTRUST as Environmental Bodies (EBs). EBs use this funding for a wide range of community and environmental projects in the vicinity of landfill sites. LOs are able to claim a credit (currently 4.2%) against their landfill tax liability for 90% of the contributions they make. Since its inception in 1996, over £1.4 billion has been spent on more than 51,000 projects across the UK. For further information please visit www.entrust.org.uk or see HMRC's general guide to landfill tax.