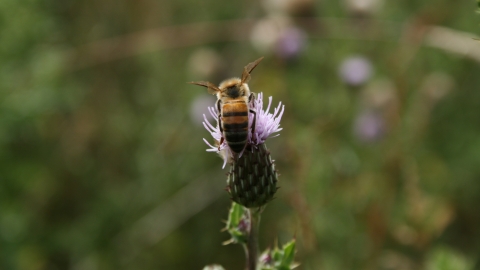 Large pastureland networked with rhynes full of rare plants, invertebrates and birds.
Know before you go
Entry fee
No
Grazing animals
Yes
Walking trails
As well as the public footpaths that cross the reserve, there is an open access arrangement across the site. Caution - many of the rhynes are steep-sided and contain deep water. The fields can be very wet in the winter months.
Access
The reserve can be accessed along Puxton Lane to the west of the reserve and via Dolemoor Lane to the East. Two public footpaths cross the reserve in an east-west direction, with two further footpaths bordering the reserve to the north and south. 
When to visit
Opening times
Open at all times
Best time to visit
April to August
About the reserve
The rhynes (watery ditches) are full of rare plants such as frogbit and rootless duckweed, along with many scarce invertebrates such as hairy dragonfly and water scorpion.
Reed and sedge warblers are found in the rhynes, and migrating whimbrel are often seen here in the spring.
During the spring and summer ground nesting birds such as skylark are found in the fields, and lesser whitethroat and reed bunting can be heard in areas of wet scrub.
The site also contains evidence of Roman habitation and Medieval earthwork.
This site was purchased and managed through support from the Heritage Lottery Fund, ARC, North Somerset Council and public donation.
Environmental designation
Site of Nature Conservation Importance (SNCI)
Site of Special Scientific Interest (SSSI)