Taking action for wildlife from a young age
Wildlife Watch is the junior branch of The Wildlife Trusts and the UK's leading environmental action club for children.
Wildlife Watch groups are usually run by schools or volunteers, with support from their local Wildlife Trust. Activities are varied and practical, designed to nurture curiosity and learning about the natural world; examples include badger watching, bat detecting, wildlife campaigning and pond dipping.
The Wildlife Watch website has a range of resources and activities for you to enjoy with your family, class or group.
If you want to find out about Watch groups near you, or you're interested in starting your own, we'd love to hear from you.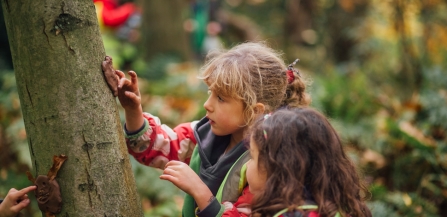 Wildlife Watch Clubs at Feed Bristol
On the first Saturday of every month, our education team run a Wildlife Watch Club at our Feed Bristol site, for 5-10 year olds. Please note that we will be taking a break until February 2020, so there will be no January session but we will be back at Feed Bristol on Saturday 1st February. Book your place on Eventbrite here. 
We'll be learning all about nature, with an exciting new theme every month and lots of fun activities to enjoy. Visit our Events page to find out more about individual 
You can also keep an eye out for our updated schedule for the rest of the year below and book your place. Entry is £5 per child, and includes a drink and a healthy snack. 
Thanks to players of People's Postcode Lottery for supporting our Wildlife Watch Club at Feed Bristol. People's Postcode Lottery is regulated by the Gambling Commission, for more information please click here.