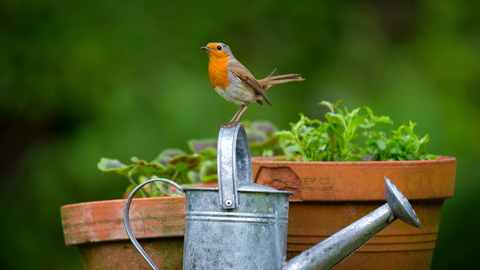 Wildlife Gardening Club
Location:
Online,
We will run these sessions over Zoom
Join us on a journey to create a wildlife friendly garden. Share your experiences and learn from experts as, month by month, we explore a new topic.
About the event
If you want inspiration and advice on how to welcome more wildlife to your garden, this is the course for you!  Join us online, every 2nd Wednesday of the month, for Wildlife Gardening Club. Each month we will focus on a different topic: such as building ponds, planting for pollinators and how to grow vegetables in a wildlife friendly way. 
Each month we will be joined by an expert guest from Avon Wildlife Trust (including from our wildlife gardening hub "Grow Wilder"), who will share their knowledge and top tips. You will also have the opportunity to ask for advice on what is best for your own garden.
Wildlife Gardening Club is open to anyone and we welcome people who have only recently discovered their love of nature or gardening. Together we will create a supportive community, where we share our successes and challenges every month, so that we can all learn together. For this reason we are running these sessions in seasonal blocks. The first block is now available to book onto and will run from Jan- March 2021. If you enjoy these 3 sessions you may want to join us for the remainder of the year. Scroll down to see the schedule for the year.
The details for the first seasonal block are:
Planning a wildlife garden
Wednesday 13th Jan 2021 6:30pm- 8pm
At our first Wildlife Gardening Club session we will be looking at the key features of wildlife friendly gardening. We will discuss how to 'audit' your garden to identify nature hotspots, and areas where small changes can make a big difference. We will also talk about how to create an inspiring vision for your garden across the seasons.
Soil and compost
Wednesday 10th Feb 2021 6:30-8pm
In this session we will cover the basic principles of soil health. We'll help you work out what type of soil you have in your garden and what that means for your growing. We'll discuss different home composting techniques (including wormeries), and we'll bust some myths along the way. You'll never look at soil the same way!
Wildlife friendly food growing
Wednesday 10th March 2021 6:30- 8pm
This session is all about how to grow food in a wildlife friendly way. Whether you are keen to start growing your own food but don't know where to start, or you are an avid grower but want to ditch the slug pellets, we will share ideas on how to plan for success!
Frequently asked questions
If I can't make a session can I carry my place over to a future month?
No, you will not be able to transfer onto a later month. Please be sure you can attend the 3 dates you are booking for before you buy the seasonal block.
Can I just purchase 1 session?
No, we would like to make progress together by sharing our experiences based on what we have learned, so we have specifically chosen to run this event as a monthly club.
Can I buy this as a gift?
Yes! We think it will make a wonderful gift. Just let us know by emailing learning@avonwildlifetrust.org.uk when you make your purchase and we will ensure that we email the gift recipient with the welcome details instead of you in January.
Booking
Price
£49 for 3 sessions
Additional booking information
Refunds are available up to 2 weeks before the first course date in January.
Know before you go
What to bring
You will need access to a laptop, computer or tablet with Zoom installed on it.  We will email you a link to join the course nearer the time.