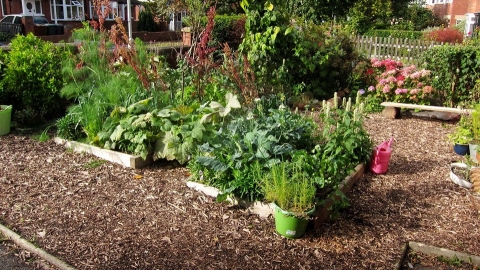 Introduction to Edible Gardening
Location:
181 Frenchay Park Road
,
Bristol,
BS16 1HB
Transform your garden into a productive, low maintenance, edible garden, that is full of food, friendly to wildlife & looks good.
About the event
Would you like to be:
* Growing your own food but feel you don't have space or the time?
* Eating more organic food but think it's too expensive?
This course covers:
* Overview of edible plants and mushrooms
* Strategies for low maintenance & ecological growing practices
* Applying ideas to your own space
The course is suitable for beginners.
Learn what the possibilities are, and how to:
* Get more out of your space by using vertical growing for optimum production in a small space.
* Identify microclimates and create new microclimates to increase productivity.
* Apply simple solutions for any type of garden, from a small yard to an allotment or school.
Find out more about the topics of the course on the the course Facebook event. 
What you take away from the course
* Printed, full colour, 36-page A4 course handbook
* Digital A4 colour handouts on: soils, mushrooms, backyard chickens etc
* Digital presentations
* Digital resources and links
Who is this course for?
* Homeowners
* New allotment holders
* New gardeners
* Community groups
* Building managers
* School teachers
* Schools workers
Testimonials
'This was a very well constructed training event from an expert in the field – thanks to Niels.'
Miranda Clarke
'Really enjoyed the day and meeting some great people! Niels was top, I thought his humour relating to the subject and opinions was brill. Thanks!'
Tom Dorsett
What to bring:
* A packed lunch/food to share
* Suitable outdoor clothes & shoes
* Raincoat/umbrella
* Notebook, camera etc
About the Tutor
Niels Corfield is a designer, educator and consultant, working to create sustainable/regenerative landscapes and farms in the UK and Europe. He is someone with a diverse skill-set who can tie together disparate projects into a coherent whole using cutting edge- and best practice systems.
He is passionate about tree-based, ecological systems that are low maintenance and productive.
He has extensive experience with designing, establishing and managing diverse agroforestry systems, forest gardens and ecological orchards.
He is a skilled orchardist, propagator and nurseryman.
Since 2007 he has been teaching certified Permaculture Design Courses, as well as a range of specialist training and education, from design through to practical skills. He has created a suite of professional education resources to carry-out multi-stakeholder/participatory design workshops (Designing for Real).
He is the director of Edible Cities, a successful urban design consultancy, education and nursery business. Creating productive and ecological low maintenance edible landscapes since 2008. He counts amonst his clients: the Ecology Building Society and various councils and is currently working on a 500 home development in inner city Leeds.
He runs a commercial nursery and is proficient in propagating productive, named-variety: trees, shrubs, vines and herbaceous plants. He also delivers specialist courses for designing tree nursery and plant production systems.
He designs and installs rainwater harvesting and irrigation systems for growers in the UK.
He has been supporting and consulting on small-medium UK farms since 2012. Implementing, designing and consulting on rotational grazing systems, agroforestry plantings and water systems, as well as whole site design. He also offers a specialist mapping service to growers and farmers to facilitate design-making and planning on-site.
This year he is coordinating a research trial of organic no-till cover crops across a number of sites in the UK. Establishing an empiric case for soil organic matter generation in these systems.
He has been trained by Darren Doherty (RegenAg Design), Kirk Gadzia (Holistic Management), Starhawk and Penny Livingstone-Stark (Permaculture Design).