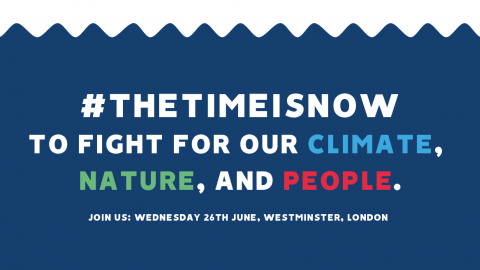 #TheTimeIsNow Mass Lobby
Location:
Houses of Parliament,
Bridge St, Westminster,
London,
SW1A 2PW
The Time Is Now: Mass Lobby for Wildlife, Climate and People
About the event
#TheTimeIsNow to act for nature's recovery – join Avon Wildlife Trust and the rest of the Wildlife Trusts on a mass lobby at Westminster on the 26th of June
Join us, other Wildlife Trusts and thousands of others in asking your MP to take urgent action to bring our wildlife back. We know our natural world is in a critical condition, but it is not too late to bring about nature's recovery.
On 26th June, we'll be joining together and taking part in a mass lobby - #TheTimeIsNow – and calling on our politicians to pass a strong Environment Act that not only protects wildlife but restores it too. Join us in the 'lobby line' outside of Westminster to play your part in creating a #WilderFuture.
We must tell our leaders: #TheTimeIsNow
What is this Mass Lobby?
This lobby will be an opportunity to meet and speak to our MPs directly and face to face as they'll be coming out to the streets around Parliament to hear people's views about climate and the natural environment. 
Thousands will join an organised lobby line queuing around Westminster, separated by constituency and full of people keen to talk to their MPs about the environment.
1pm: The lobby begins. It may take a while to find your constituency's area, so please allow plenty of time and ensure you're in the lobby line by 1pm. There will be signposts for regions and constituencies — see the guide for more details.
2pm: Alarm clock moment! Whilst gathering in the lobby line, we're going to set off as many alarm clocks as possible. By doing so, we will send a message to Westminster that they need to wake up and respond to the challenges our beautiful world is facing. Bring a portable alarm clock from home or use your phone!
1-4pm: Meet your MPs around parliament. We are hoping at least 10,000 Wildlife Trust supporters from across the country will meet with their MPs in the streets around Parliament, all at the same time!
How to get there
We have organised a return coach to Westminster from Bristol Temple Meads, through Filer's Coaches for £20.27 including booking fees. Please arrive at Temple Meads for 7:30am (at the bus stop on the left side of Station Approach when looking at Temple Meads), on the 26th of June for the first pick up.
If you can't make this, there will also be a second pick up point, from Feed Bristol in Stapleton (181 Frenchay Park Road, BS16 1HB), from the Metrobus stop, at 8:10am before setting off to Westminster. It's roughly 3.5 hours to arrive into London so we'll be arriving by 11:30am.
The mass lobby will finish at 4:00pm, so the return coach will be leaving from Millbank – opposite Millbank Tower (21-24 Millbank, London SW1P 4QP) at 4:45pm, with drop offs back to Feed Bristol and then Bristol Temple Meads. There is limited availability on this coach so please book your place here if you would like to travel with us.  
*Please note the timings and exact pick up spots at Temple Meads and Feed Bristol given here might change slightly but will be confirmed with you by email after you've booked
Please feel free to organise your own transport. If our coach has sold out, please get in touch to enquire about alternative travel arrangements: melissa.gault@avonwildlifetrust.org.uk. 
We advise everyone to use public transport or car sharing where possible. For those attending the lobby, the discount code CCL2019 will get you 25% off National Express coaches to Victoria Coach Station on the day.
Find out more about #TheTimeIsNow mass lobby on the Wildlife Trust's website.
The Time is Now is being organised by Greener UK – a coalition of UK environmental charities including The Wildlife Trusts – and The Climate Coalition.
Booking
Price
The return coach ticket from our head office in Bristol is £18.75 + booking fee on Eventbrite.