Introduction
North Somerset is getting wilder. From vibrant verges to parks and playing fields, patches of grassland that were previously cut short will now be blooming with life. We're working with North Somerset Council to see how these changes are helping to boost biodiversity, and we need your help. If you'd like to get involved or have the chance to learn new skills, you can come along to some of our events or drop us an email for more information at  NSRewilding@avonwildlifetrust.org.uk.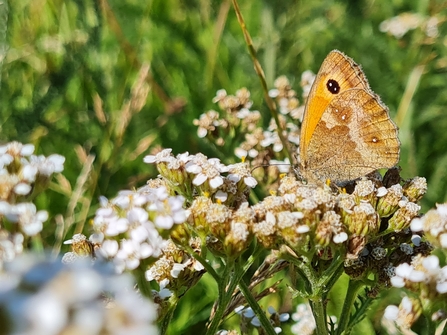 Where we're working
Clevedon

In Clevedon, the larger rewilding areas are to the west of the town, with tree planting and patches of longer grass near the Leisure Centre, with more planned towards the motorway and alongside the estuary. 

There are several active volunteers already monitoring wildlife in the area. If you'd like to get involved, please get in touch. 
Nailsea

Several areas on the outskirts of Nailsea are seeing real change already in the first year of longer grass management. Paths cut through the wilder patches mean people and pollinators can walk side by side. 

If you are local to Nailsea and would like to get involved with monitoring the changes in biodiversity in the area, please get in touch. 
Portishead

In Portishead, Kilkenny fields have been transformed by tree planting in some sections, whilst in others long grassland is already buzzing with life. These habitats really add to the fields which are popular with dog-walkers, complimenting the views across the Severn to South Wales. 

There are also other areas growing wilder around Portishead, where conservation has long been a key concern of many residents. If you would like to get involved with monitoring biodiversity in the area, please get in touch. 
Weston-super-Mare

The largest town in North Somerset, there is plenty of potential for wilder patches to pop up all around Weston-super-Mare. Sure enough, from roadside verges to popular public spaces, pollinators and other wildlife are beginning to benefit from these changes. 
Restoring biodiversity on Earth is the only way out of the crisis we have created, and that means rewilding the world.