How are you helping local wildlife?
Together, we can protect and restore 30% of land and sea for wildlife by 2030
In order to bring wildlife back across Avon and tackle the twin ecological and climate emergencies we are all facing, we need at least 1 in 4 people taking action. Let us know what you're doing to help local wildlife by completing the form below. You action will join others across Avon who are taking positive action to halt the drastic declines in wildlife populations and accelerating nature's recovery across our landscape.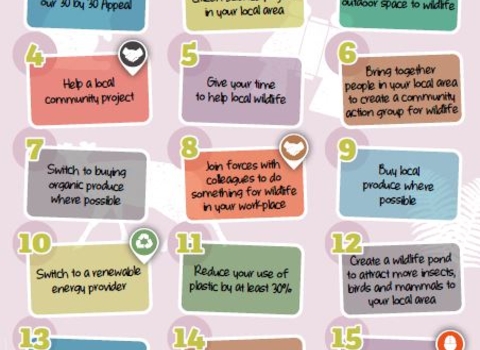 30 ways you can help local wildlife
There's so many different ways you can take positive action to help local wildlife. We've created a handy leaflet with 30 ways that you can have an impact in your local area. Make sure to log your action through the form below once you've decided what you're going to do.
Download your actions leaflet
Log your action
Join other people taking action for wildlife in Avon
Please enable javascript in your browser to see the map.