It's not too late to join in the #30DaysWild challenge!
What is 30 Days Wild?
30 Days Wild is The Wildlife Trust's month-long nature campaign. We challenge you to do one wild thing every day throughout June (or for 30 days). That's 30 simple, fun and exciting Random Acts of Wildness. This year, over 49,000 people have signed up to take part and connect with nature this month!
Just five minutes in nature is scientifically proven to reduce stress and anxiety and help you feel better. So this June, take the #30DaysWild challenge. #GoWild with a Random Acts of Wildness every day for 30 days - feel good and enjoy nature every day.
Take the challenge and you might just find yourself feeling a little bit healthier, happier and wilder!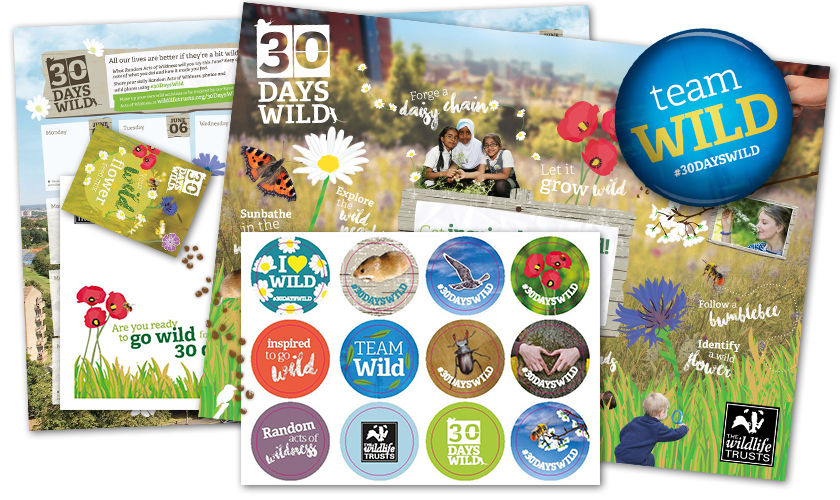 When you sign up for #30DaysWild, we'll email you a link to download our free pack of wild goodies, plus lots of ideas to inspire you to #GoWild. But you don't just have to do what we tell you: why not make up your own Random Acts of Wildness?
Shut your eyes to listen to bird song. Take a wild walk at lunchtime. Lie back in the long grass. Search out urban wildlife. Talk to someone on your street about nature. Use wild ingredients to mix a wild cocktail.
You can share all the things you do with us on social media using #30DaysWild along with thousands of other people taking part.
---
Anyone can get involved, by yourself, as a family or even as a School or Business. It's so easy to bring a little bit of wild into your everyday life, so do something wild every day!
Schools
Complete 30 wild acts with your class this June!
Whether you take your class outdoors or bring the wild into your classroom, making nature part of school life can open up new ways of learning and engagement for your pupils!
Sign up and download our Schools Pack!
Businesses
Make your office, shop or work place wild!
Whether you walk to work, schedule a meeting in the sunshine or take a lunch break outside, making nature part of your work life can improve your health & wellbeing!
Sign up and download our Businesses Pack
Bristol Business Backing
How you can support local wildlife this June
We've teamed up with some local businesses that will be supporting us and helping raise funds for Avon Wildlife Trust this June. You can have a beer in Bath, some frozen yoghurt in Clifton, a boat ride around the Avon Gorge, keep fit at the weekends and event visit Millenium Square, Bristol and support local wildlife.
Hedgehog's Snout is our specially made, locally sourced beer. We've been working with Bath Brew House (and our competition winner) to create a delicious brew, for you! Avon Wildlife Trust will receive 50p for every pint sold. So sit in the glorious summer garden, relax in the sunshine, sip a cold beer - all whilst doing good for nature. Go you!
Bristol Ferry Company
Throughout June Bristol Ferry Company will donate £1 per ticket to Avon Wildlife Trust for two of their trips: Bands at Beeses and Classic Avon Gorge trip. So take an evening boat trip, sip on a chilled beverage, enjoy the views and support Avon's wildlife!
For information on bookings please contact info@bristolferry.com or call their office on 0117 927 3416.
@Bristol are committed to making June all about nature and so through the month they will be showing nature themed films on the Big Screen in Millennium square, kicking off with A Bug's Life on 1 June, so keep a look out.
Flavalanche frozen yogurt is all-natural, refreshing and delicious. Each Tuesday in June, at the point of purchase say that you support "Avon Wildlife Trust" or taking part in "30 Days Wild", & they will donate a whopping 20% of the proceeds to Avon Wildlife Trust.
Get 10% off your next purchase - simply takes a picture of your treat and uploads to Twitter with the hashtags #flavalanche and #30DaysWild
...Before you go, why not take a moment to watch our #30DaysWild video?
Image Credit: Nick Upton
Downloads