Turn your passion into a career
Are you committed, passionate and keen to learn more? Do you want to gain experience within the environmental sector? Our placements provide an insight into the different roles within Avon Wildlife Trust and that first step into a new career.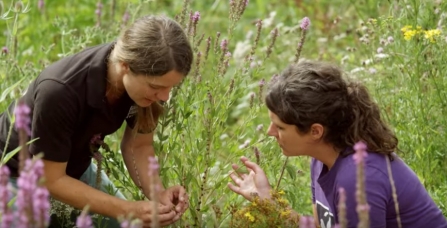 Current opportunities
Explore all our current placements below.
Grow Leader Placements - Feed Bristol

Grow Leader Placements help us to run the site; facilitating volunteers and assisting the food growing and conservation activities throughout the season. This is a brilliant way of getting work experience whilst enriching and building on the learning from the Grow Leader Course. Successful applicants will be able to receive the Grow Leader Course FREE of charge after completion of 6 months of placement volunteering, this course aims to support more people to become effective facilitators of ecological land management and food growing projects.

If you are interested in applying for the Feed Bristol Grow Placement, please send in a CV and Cover letter to Volunteer@avonwildlifetrust.org.uk  The deadline is Friday 21st June, and the interviews will be held on Monday 8th July. The placement will start on the week beginning 5th August.

Applicants must be able to commit to 2 days on site a week for 6 months.  There is an optional 3 month extension to the placement on review.

Deadline for applications: Friday 21st June
Interviews: Monday 8st July
Start date: Week beginning 5th August
Wildflower Nursery Placement - Feed Bristol

Join the team at Avon Wildlife Trust's wildflower nursery in Stapleton to gain experience in horticulture and learn about the growing needs of some of our native wildflowers. Training will be provided but a willingness to learn and work as part of a team essential.
Fridays 10-4pm, minimum 4 month commitment desired. For more information see the volunteer role description.
Forest Gardening Placement - Feed Bristol

Come and help care for the Forest Garden at Feed Bristol. Learn about the origins and design principles of Forest Gardening through hands on work. We'll be making observations, surveying, soil testing, planning, weeding, planting, harvesting, seed sowing, making crop protection structures, sowing green manures, and making interpretation signs. The sessions are informal, the work practical.

We meet every week on Wednesdays 10 – 3.30pm, minimum 4 month commitment preferred. Rolling start dates. Please email volunteer@avonwildlifetrust.org.uk for more information. 
Natural Pathways Placement - Bath

The Wellbeing with Nature team will be delivering a NEW Natural Pathways Project in partnership with Bath City Farm as part of the wider Bathscape scheme*. Natural Pathways will provide opportunities to support people in Twerton and surrounding area who have been referred by the local GP or self-referred, to take part in activities to improve their physical health and mental wellbeing. We are looking for an enthusiastic volunteer local to Bath to assist the team to support the group engage in practical conservation activities and wellbeing interventions.

Thursdays 9.30 – 3.30pm. Deadline for CV's Friday 12th July 19.

*Bathscape - funded by Heritage Lottery and led by Bath & NE Somerset Council is a partnership scheme that will engage a wide range of people to feel connected to their local landscape.
Wildlife Gardening for Older People Placement – Feed Bristol

The Wellbeing with Nature team have been delivering wildlife gardening sessions for over 50's as part of a collaborative partnership project called Come on Board. We have expanded our delivery and now run two sessions every other Monday: 1. Dementia Friendly Wildlife Gardening activities that encourage memories and connection to nature – 10am-12pm;

2. Wildlife Gardening activities to encourage physical activity, social interactions and connection to nature.  We are looking for a compassionate and supportive volunteer to help assist the team to engage the groups in nature activities that supports their wellbeing.   

Every other Monday 9.30 – 4pm. Deadline for CV's Wednesday 10th July 19.
Finance Volunteer - AWT Head Office in Bristol

We're looking for a Finance Volunteer to support the Finance and Resources team with finance and administration tasks, which includes using our finance software package, our databases and paper and electronic files. We're looking for someone to help 1 day per week. 

Please email Jane.Davis@avonwildlifetrust.org.uk  with your details and a covering letter if you are interested.
Youth Forum Member

6 months to a year commitment preferred, four meetings a year, plus other opportunitiesLocation: Bristol, Weston-super-Mare and Bath (Avon)

Avon Wildlife Trust is passionate about providing opportunities for the next generation to shape the future of our work and provide a platform for you to make your voice heard.

If you are aged between 14 and 24, have a passion for wildlife and our environment this is the opportunity for you. You will meet with like-minded peers to develop projects and events to champion the new Environment Act, become advocates for your generation to take positive action for the future, develop and deliver your vision for a Wilder Avon and be part of the wider movement of Our Bright Future.

We will support this role with training, genuine connection with our Board of Trustees and Senior Management Team, and inspiring opportunities to make a real difference to your local environment.

To make this role as accessible as possible we will aim to hold meetings in Bath and Weston as well as in Bristol and provide transport costs to enable you to attend. We ask that you attend four meetings and we will offer volunteering, team building and additional training opportunities throughout the year.

If you are interested in this position the job description and details on how to apply can be found at www.avonwildlifetrust.org.uk/jobs or contact catherine.ware@avonwildifetrust.org.uk

Closing date: Friday 19th July, 5pm

Successful candidates will be invited to an induction/ introduction on Tuesday 6th August.

Youth Forum Member role description
Didn't find what you were looking for?
We often update this page with new opportunities, so watch this space!