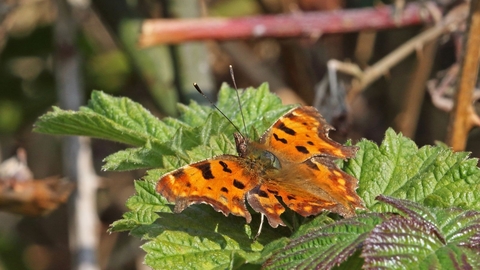 Wildlife Gardening Club- April, May, June
Location:
Grow WIlder,
181 Frenchay Park Road,
Bristol,
England,
BS16 1HB
Book
Join us on a journey to create a wildlife friendly garden. Share your experiences and learn from experts as, month by month, we explore a new topic.
About the event
If you want inspiration and advice on how to welcome more wildlife to your garden, this is the course for you!  Join us online, every 2nd Wednesday of the month, for Wildlife Gardening Club. Each month we will focus on a different topic: such as building ponds, planting for pollinators and how to grow vegetables in a wildlife friendly way. 
Each month we will be joined by an expert guest from Avon Wildlife Trust (including from our wildlife gardening hub "Grow Wilder"), who will share their knowledge and top tips. You will also have the opportunity to ask for advice on what is best for your own garden.
Wildlife Gardening Club is open to anyone and we welcome people who have only recently discovered their love of nature or gardening. Together we will create a supportive community, where we share our successes and challenges every month, so that we can all learn together. For this reason we are running these sessions in seasonal blocks. The second block is now available to book onto and will run from April- June 2021. If you enjoy these 3 sessions you may want to join us for the remainder of the year. Scroll down to see the schedule for the year.
The details for the second seasonal block are:
Lawns, wildflowers and pollinators
Wednesday 14th April 2021 6:30pm- 8pm
Is your lawn a bit 'yawn'? In this session we'll share practical tips on making your lawns, borders and containers havens for pollinators. We'll discuss what wildflowers are more suitable for different spaces, and share tips on lawn management.
Encouraging bees, butterflies and moths
Wednesday 12th May 2021 6:30-8pm
This session will focus on our vital pollinators. We'll discuss why we can't live without them, why they are under threat, and how your garden, patio or balcony can help. We will also give tips on how to identify different types of pollinators.
Wildlife friendly food growing- management
Wednesday 9th June 2021 6:30- 8pm
This session will focus on how to manage vegetable and fruit growing over summer, to get the best results possible whilst respecting the environment. We'll also discuss nature-friendly pest control: including (of course) slugs and snails!
Frequently asked questions
If I can't make a session can I carry my place over to a future month?
No, you will not be able to transfer onto a later month. Please be sure you can attend the 3 dates you are booking for before you buy the seasonal block.
Can I just purchase 1 session?
No, we would like to make progress together by sharing our experiences based on what we have learned, so we have specifically chosen to run this event as a monthly club.
Can I buy this as a gift?
Yes! We think it will make a wonderful gift. Just let us know by emailing learning@avonwildlifetrust.org.uk when you make your purchase and we will ensure that we email the gift recipient with the welcome details instead of you.
Booking
Price
£49 for 3 sessions
Additional booking information
Refunds are available up to 2 weeks before the first course date in January.
Know before you go
What to bring
You will need access to a laptop, computer or tablet with Zoom installed on it.  We will email you a link to join the course nearer the time.