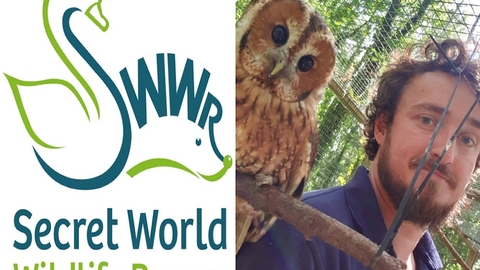 Secret World - A Journey Back to the Wild
Location:
Online,
Online event
Book
Online talk with Jamie Kingscott, Secret World

Event details
Date
About the event
The aim of all that Secret World Wildlife Rescue do is to get every animal back to the wild. Online talk with ecologist Jamie, who works as wildlife release co-ordinator at Secret World near Highbridge, will talk about the trials and tribulations of how the organisation achieves that goal. 
Jamie, who grew up in Keynsham, now travels across the county and beyond getting rehabilitated animals back to the wild. After the talk there will be opportunity to ask questions. 
We would welcome our local members (or anyone on the call) to stay connected for a short social event (after a comfort break), including local sightings and chat.
Book online at https://secret-world.eventbrite.co.uk A suggested minimum donation of £2.50 per person watching would be appreciated. All profits help Avon Wildlife Trust with their work locally.
FFI keynshamawt@gmail.com or phone Kathy 07850 508702
Booking