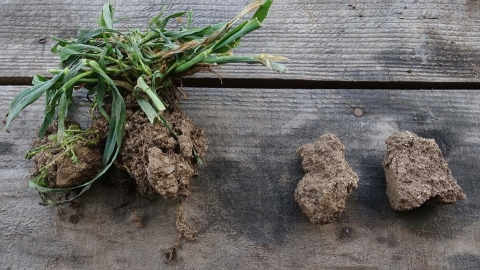 Intro to Soil Health on Horticulture Operations - Bristol
Location:
Feed Bristol,
181 Frenchay Park Rd, Stapleton ,
Bristol ,
BS16 1HB
Book
A one-day course on promoting and preserving soil health, using problem-based learning. Apply the soil health principles to transform your soil into a crumbly, friable state that's easy to work & produces healthy crops.
About the event
The soil health principles work. From large farms to market gardens, when implemented doggedly they bring real results: better soil structure, healthier crops and more consistent yields. What's more, the growers that have most rigorously applied these principles have the more profitable operations today.
Think differently about the "farming problem", and find solutions that work for you in your situation.
• Cash crops, cover crops, cultivation, amendments, propagation, composting etc.
• Rotation planning for reduced work & better crops.
• Road testing novel practices on your operation with minimal disruption.
• Simple testing methods to monitor soil health and measure success.
Who is this course for?
• Market gardeners
• Commercial growers
• Nursery workers
• Horticulture managers
• Apprentices, trainee growers
About the Venue
Feed Bristol is a land-based businesses incubator site that plays host to six businesses working at different scales. Including two commercial market gardens: Sims Hill Shared Harvest and Edible Futures Market Garden.
About the Tutor
Niels Corfield has been working to deliver a truly sustainable food system for over 10 years.
He is an advisor, researcher, educator, designer, grower and nurseryman. Working to create sustainable/regenerative landscapes, farms and spaces in the UK and Europe. He is focussed on agroecological systems that are low maintenance and productive.
He advises and consults on: soil health, agroforestry, planned grazing and setting-up on-farm crop trials.
He provides whole-farm planning and design services for transition farm operations, through an inclusive/participatory framework.
He also offers a specialist mapping service to growers and farmers to facilitate decision-making and planning.
He is a soils reseacher, technician and demonstrator and is coordinating the PFLA soils monitoring project - establishing an empiric case for healthy soils on pasture and mixed farms. As well as conducting a cover crops trial on arable and horticulture operations in the UK. He has carried-out on-farm soil assessments with a number of farmers and growers in the SW, Wales, the SE and the North.
He delivers specialist training courses for farmers, growers and land managers. He is a demontrator of in-field monitoring practices and surveying on-farm.
He is committed to an information-lead approach to land-based decision making and management practices. He works closely with Sectormentor, SioBio Lab & Field Margin.
He designs and installs rainwater harvesting and irrigation systems for growers in the UK.
Booking